Hello there! To keep organized, we use Google Apps.
This page describes how to log in and access shared services.
Just follow these steps to get going.
Install Google Chrome
Install Google Chrome on your computer: https://www.google.com/chrome/browser/desktop/index.html
Login
Login: https://accounts.google.com
Username: yourname@englishvillage.tw
Password: password
Account
Account settings: https://myaccount.google.com
Change language: https://myaccount.google.com/preferences#localization
 Mail
Access mail here: https://mail.google.com
 Calendar
Access calendar here: https://calendar.google.com
Shared calendars
To add a calendar to yours, click "Add coworkers calendar" then cut and paste the code below.
NOTE: If you have not been granted permission to view a calendar, please ask to be granted access.
English Village:
freeschool.tw_703057ggmh9l6a0t4lp88qmcf4@group.calendar.google.com
Syuejia Elementary School:
freeschool.tw_49hr3uhofgc5f5q3rvl3dhej8k@group.calendar.google.com
 Drive
Access drive here: https://drive.google.com
Shared folders
This folder is used by staff and you need to login to access it. Click on the link and select "Add to Drive" for easy access.
English Village Admin Folder:
https://drive.google.com/a/freeschool.tw/folderview?id=0B1_kMzgBOCTgfkd0c0xGZDMyRUhqZ292NFd5TzdENmRnTjFuVEdqcmdoM3JMVWZuZko5QzQ
There is also a public folder named "Public Share" within that folder that is viewable by anyone. That folder is used for lesson plans, teaching materials and anything else that we want to share with everyone.
Hangouts (chat)
Install Hangouts for Google Chrome so we can chat: https://chrome.google.com/webstore/detail/google-hangouts/nckgahadagoaajjgafhacjanaoiihapd
Questions?

Click the "9 squares" button to see all services.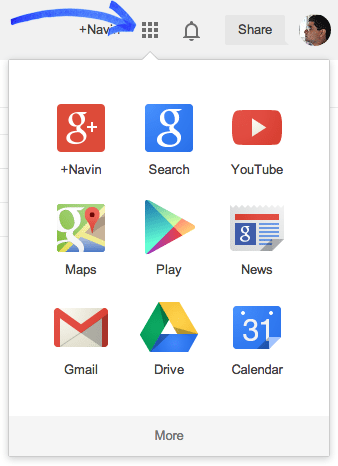 These instructions were blatantly copied from https://support.google.com/accounts/answer/1714464